Microsoft wants you to use its Chromium-based Edge on all platforms – Windows 11, Windows 10, Android and iOS. The tech giant is intensifying its efforts to promote its Edge browser after losing its position as the second most popular desktop browser to Apple's Safari.
In the first incident, a Windows 11 and 10 update broke a feature allowing users to change their default browser, resulting in difficulties for Chrome users. Some users encountered pop-ups each time they opened Chrome, and attempts to set Chrome as the default browser or restore its default settings proved ineffective.
In the second incident, Microsoft plans to target Outlook and Microsoft Teams users by pushing its Edge browser on these platforms. This move further demonstrates the company's aggressive marketing strategy for Edge, which has been met with mixed reactions from users.
A Windows update bombarded Chrome users with pop-ups
Microsoft broke Windows 11/10's feature that lets you set the default browser. This issue was observed on PCs with cumulative update KB5025221. After installing the update, some folks reported encountering pop-ups every time they opened Chrome.
On April 2nd, a user mentioned that upon launching the Google Chrome browser on several Windows 10 systems (version 22H2 with the latest updates released on April 11, 2023's Patch Tuesday), the Default Apps settings would open each time.
Attempts to set Google Chrome as the default browser, restore Chrome's default settings, or even uninstall and reinstall the browser proved ineffective. Another user claimed that uninstalling update KB5025221 resolved the issue, but this is not a feasible option for all computers due to the update's size and reboot requirement.
Fortunately, Google took notice and released an update sometime in April to fix the problem.
Microsoft wants Outlook and Teams users to try Edge over Chrome and Safari
At the same time, Microsoft is stepping up its promotion efforts for its Edge browser by encouraging users on Android and iOS to make it the default choice for opening links in Outlook.
I reported this in February, and the tech giant plans to expand it to other apps like Microsoft Teams.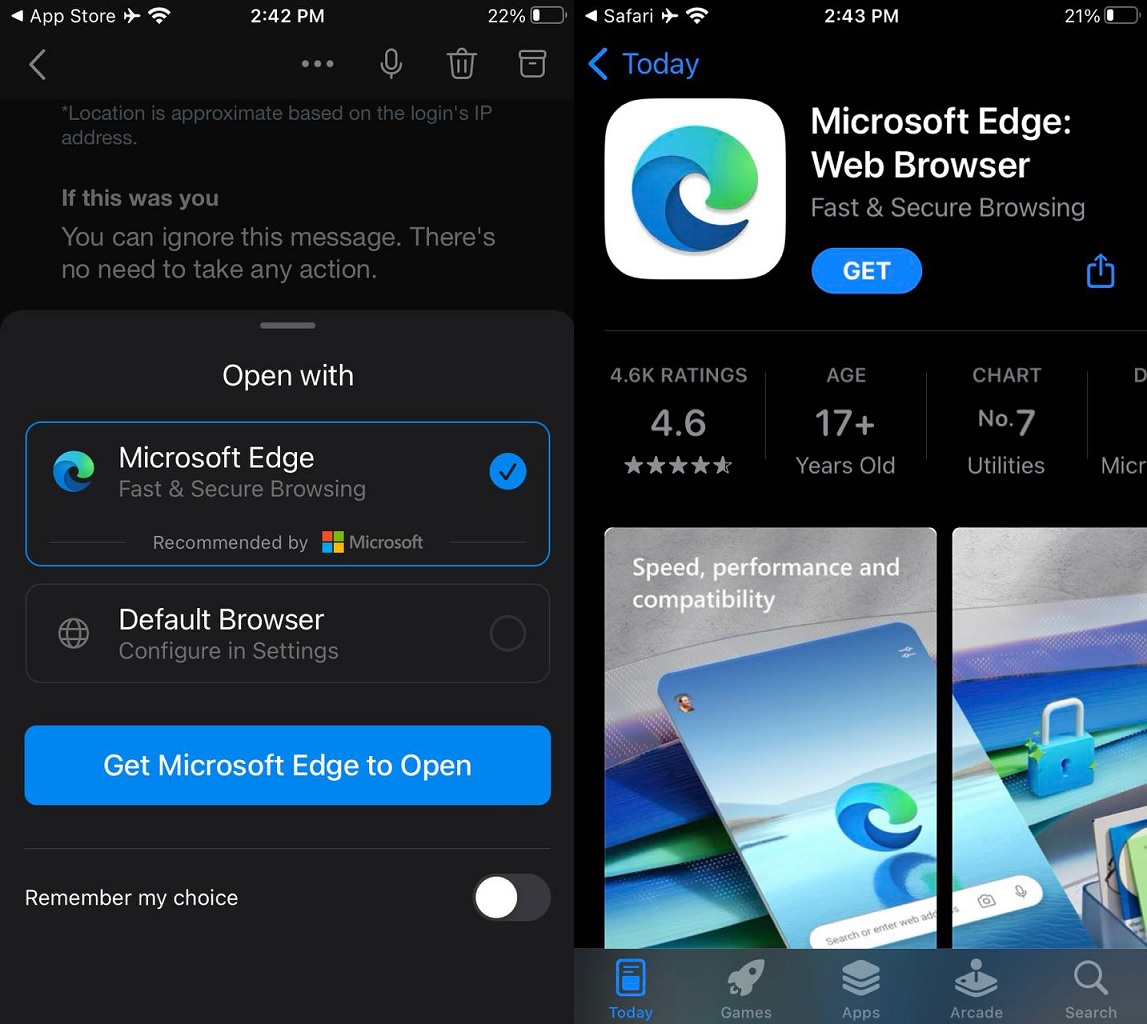 This move aims to steer users towards Edge, influencing their browser preferences.
When the feature is enabled in Outlook and Microsoft Teams, any links clicked in Outlook and Microsoft Teams will open in Microsoft Edge will find it opened in Edge. If you don't have the feature enabled, a prompt will appear asking you to use Edge or revert to your default browser.
The updated apps already present Microsoft Edge as a "Fast & Secure Browsing" option, while the alternative "Default Browser" is offered without any descriptive terms, subtly nudging users towards Edge.
According to a support document, Microsoft has similar plans for Outlook and Teams on Windows. Microsoft officials also confirmed links within the Outlook app will now open by default in the Microsoft Edge sidebar pane.
This change is intended to streamline the user experience, allowing email content and web pages to be viewed side-by-side without switching between windows or tabs.
However, a Microsoft official confirmed that the users would be allowed to use the existing default browser when they click the link for the second time.
Microsoft's push to promote Edge on mobile and desktop platforms has raised concerns about the company's approach to browser competition and user experience.